Bands:
See the ARCHIVE page for more BANDS. Here you'll find stuff on The Minors and The Slim Kings.
---
Morris and The Minors / Fastbreeders
(1978-1980)
Laurence Arnold - drums
Kevin Ottuwell - bass
Bill Reading - guitar
Pete Gazey - guitar
Mick Sumbling - vocals & acoustic guitar
Paul Nesbitt-Larking - tenor sax
The Minors was my first real band. Based in Kent (The Garden of England), we played in pubs and clubs around the county in the late 70s and early 80s. Some people called it pub rock and others power pop. To give you a rough idea, we played versions of songs by Ian Dury, Elvis Costello, The Cars, Joe Jackson, Eddie & The Hot Rods, Chuck Berry, Thin Lizzy and our own songs.

I'd been playing since 1976 with Pete and Laurence in a band doing mostly cover versions called Cheetah. Some of us thought the name might have had something to do with Tarzan's simian sidekick. I think I had four or five of my own songs in the set when the other singer/guitarist/songwriter (Chris Ufton) and bass guitarist (Melvyn Armot) left the band in 1977.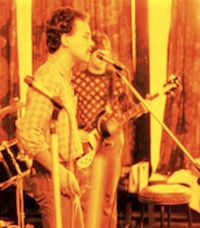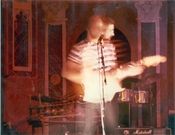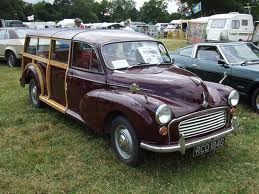 L-R: Cheetah, Peter Gazey 'spaced out', Minor Stretch Traveller.       
Most of the band's original songs were my own: "(Home Is) Where The Heart Is" and "Nine To Five" were from the Cheetah period. Both were recorded at a studio in Whistable, Kent in 1977 with the first line-up (Paul joined up some six months later, after we ditched the chimp). Other original songs included: "No Emotion", "Saturday Girl"and "Wallflower" (all recorded at Oakwood studios in 1979). There are live recordings of "Maintenance Man", "(Poor Little) Misunderstood", "The Right Thing", "Night Shift", "Forget Her" and "Anyone Else But You". But the most memorable original song we ever did was written and sung by Paul Nesbitt-Larking: 
Reds Under Your Bed
Next time you go to wee in your potty
You'd better watch it, 'cause we're very dotty
You're gonna struggle with the Commie foe
We're very radical and we've got your po

We are the reds under your bed
Don't worry comrade, though it may seem incredible
We are the reds under your bed
It must be true it's what the papers said

We're gonna throw up all over your Jag
We're gonna call your mum an old bag
We're going to pervert the right of free speech
We're going to suck on your brain like a leech
We are the reds under your bed…

We're gonna stuff your mind with propaganda
We're gonna make you step goosey, goosey gander
We're gonna chop you're kids into pieces
Put the back together in a left-wing thesis
We are the reds under your bed…

We're going to liberate your hard-earned money
You're going to listen to our jokes, which ain't funny
We're going to pervert the right of free speech
We're going to suck on your brains like a leech
We are the reds under your bed…

We're going to get your cat out on strike
We're going to call you a fascist type
We're going to liberate your hard-earned money
You're going to listen to our jokes, which ain't funny
We are the reds under your bed…

We're going to occupy your front garden
We're going to spit at you and not say pardon
We're going to picket your bathroom and spoil it
We're going to stop you going to the TOILET!
Words by Nesbitt-Larking, Music by Nesbitt-Larking & Reading, Oakwood Studios, Kent 1979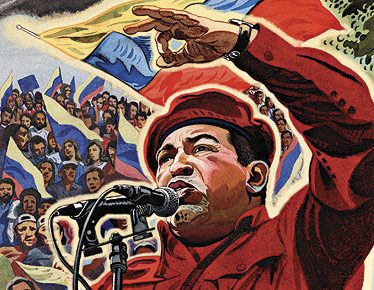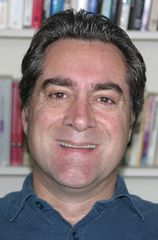 Spot the odd red out? Answers to the Political Science Department, Huron University College, London, Ontario.
In the early days I drove to gigs in my ex-Post Office Morris Minor. Later, as we began to play bigger gigs more often, Bob Lopez joined the band as sound engineer, publicist and general factotum. We acquired cabs and bass bins and needed a bigger van. It was a green Ford Transit with a cartridge music system and belonged to Pete Kelly, who became our driver and roadie.
In '79 we cut a second version of "

NO EMOTION

" for the

First Offenders

compilation album of Canterbury bands on the

Criminal Records

label. The song was recorded live using the

Manor Mobile

Studio at The Marlowe Theatre, Canterbury. At this point we changed our name to avoid confusion with another band - also called Morris & The Minors - who were from London and who changed their name shortly afterwards to 'Madness'. We appeared on the 1980 release as 'Fastbreeders'.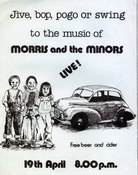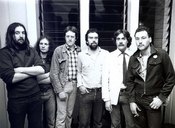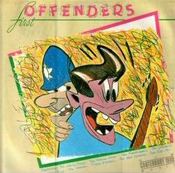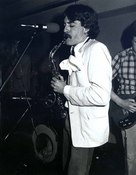 Spring of 1980, the band played at The

MARQUEE CLUB

(then, as now, at 1 Leicester Square, London) in the regional finals of "

Melody Maker Battle of The Bands

". We were told we sounded like a cross between The Attractions and Thin Lizzy. Our image was all wrong; we looked like 2 Deaf Schoolboys + 2 Dire Straits + 2 Pink Fairies. At least the guy from MM got a laugh out of it. Check out the photos and see if you can work out who is who.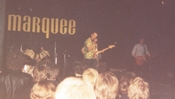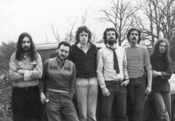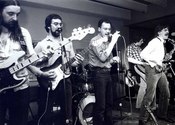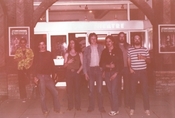 The band played its last gig in July of 1980, and shortly after that I left to live and work in Spain. I've kept in touch with Pete Gazey and Bill Reading. We usually meet up at least once every couple of years. Both are still inspiring guitarists. Next time we meet up I hope to play some gypsy jazz with them. More recently I also made contact with Paul NL, who's living and working in Canada.

In the summer of 2004, five of the original six members, all except Laurence, Bob and Pete Kelly (all of whom we tried to trace) did manage to meet up at Bill's in Chartham, Kent.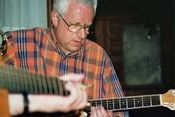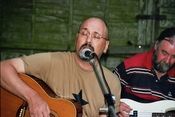 Pete and Paul also came over Barcelona in July 2006 and recorded their contributions to "Tears (Come Rolling Down)" on "TESTING TIMES"  and which you can hear on the site-wide player (also featuring Colum Pettit on violin and Juan Carlos García on accordion).
The Slim Kings
(2002 - 2004)
Arseni Gonzalez - harmonica

Manuel López - double bass*

Miquel Vall - 5-string banjo

Marc Solà - acoustic guitar

Colin Stewart - fiddle & mandolin

Mick Sumbling - acoustic guitar & vocals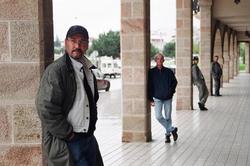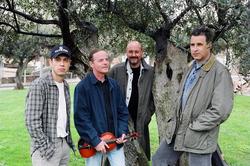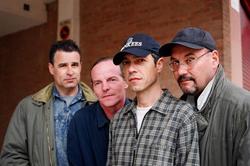 The Slim Kings played Hillbilly Blues, Country, Bluegrass and Western Swing.

Slim Kings wicked versions included: "Sitting On Top Of The World" (Lonnie Carter & Walter Jacobs), "Bowling Green Rag" (John Cephas), Still Haven't Found What I'm Looking For" (U2), "Sympathy For The Devil" (Jagger/Richards), "These Boots Are Made For Walking" (Lee Hazlewood), "Banana Boat Song (Day-O!)" (Harry Belafonte), "Walk Right In" (The Misissippi Sheiks), "Hey Good Looking" (Hank Williams), " Sea Of Heartache " (Don Gibson), "Jambalaya (On The Bayou)" (Hank Williams), "16 Tons" (Merle Travis), "I Am A Pilgrim" (Merle Travis), "San Antonio Rose" (Bob Wills), "Wallflower" (Bob Dylan), "Man Of Constant Sorrow" (Richard Burnett), "San Francisco Bay Blues" (Jesse Fuller).

*Manolo López (Orkestina) played double bass at gigs in Sabadell and Sant Cugat.